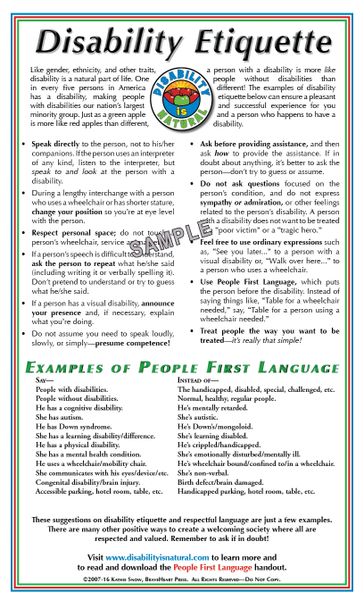 Disability Etiquette
Disability Etiquette Poster
Want to educate others about disability etiquette? The Disability Etiquette Poster includes the basics on respectful interactions, as well as examples of People First Language. It can serve as a gentle reminder that people with disabilities are people, first.
Decorate your home, school, or office with this powerful message; it can generate conversations, motivate others, and help create positive changes—and combining this poster with others will multiply your efforts! The poster is 8.5" x 14", vertical format, laminated; and includes sticky-mounts on the back, so it's ready to use. Click here to see our People First Language articles.
We can't make the image any larger, I'm sorry to say (limits of technology and software!), but you can click on the image for a slightly larger view. Then you can make it still larger (but it will be fuzzy on your screen): on a PC, hold down the Control and =+ keys together. On a Mac, hold down the Command and =+ keys together. To reverse these, hold down the Command (Mac) or Control (PC) key with the - key.