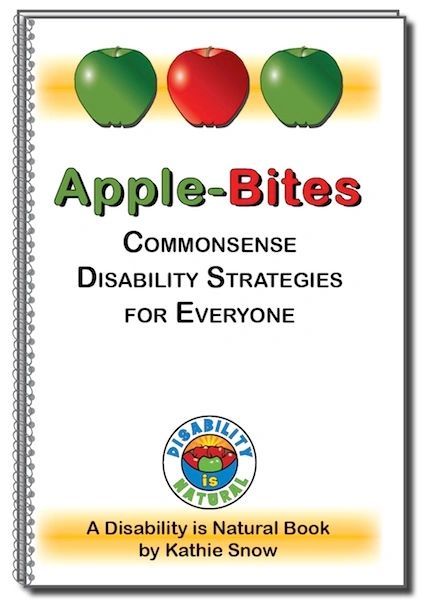 Apple-Bites Book
Apple-Bites: Commonsense Disability Strategies for Everyone
What do people with disabilities want others to know about what's really important for their lives?
How can the words, attitudes, and actions of parents, educators, service providers, and others make a difference in the lives of people with disabilities?
This little book includes big ideas and commonsense strategies that can generate powerful, positive change in the lives of children and adults with disabilities and their families!
It's divided into three sections: ATTITUDES (new ways of thinking and talking), VOICES (what people with disabilities want us to know), and ACTIONS (how we can do things differently). Each page features a specific strategy, detailed with color graphics. It's easy to read and user-friendly: ponder each message; prop the book open on your desk to one page or another; discuss the concepts with others. Let the ideas percolate in your heart and s-t-r-e-t-c-h your mind and your imagination. The big ideas in this little book can generate life-changing outcomes!
Apple-Bites: Commonsense Strategies for Everyone, 8" x 5.5", spiral-bound, 44 pages with full-color images; $10.00